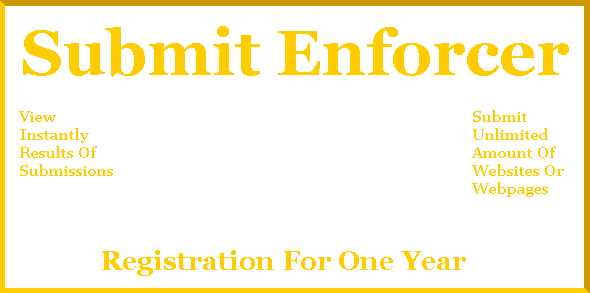 | | | |
| --- | --- | --- |
| The Best Submitting Program Online Available | | Paypal Payments Accepted |


If you've been looking for a simple program that will make it easier for you to submit
your website or webpages, then you need to try Submit Enforcer. This program
makes it easy to submit and shows you the submission instantly. There will be
no doubt in your mind if your page has been submitted.


Plus: Submit As Many Pages And Sites You Want
Double Plus: This Program Is Online-You Can Submit From Any Computer


BACK TO FRONT PAGE
---
|LINK TO US |SUBMIT YOUR SITE |VISITOR :30016321 |
| LISTING OF FREE INTERNET PROVIDERS|



EMAIL
SUBMIT YOUR SITE FOR FREE